Wp Starter Guide –

WordPress

Tutorial
A WP Starter Guide – WordPress Tutorial:

See how to create a website using WordPress. A Great Guide For newbies or anybody else that would just like to learn more about WordPress. 
A 

Sublime Guide

to Creating a Website With WordPress
With this guide you may gain a tremendous advantage over most other WordPress users.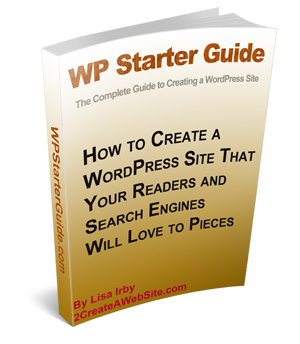 Thanks to the ease of use and excellent flexibility WordPress offers, users everywhere are currently using it to create loads of different websites.
The problem? You will find that most WordPress websites aren't really "news sites". Plus the average user does not know how to use the WordPress Menu function or static pages effectively.
Did you know: Not every WordPress site should be organized in a blog type format? WordPress isn't just for blogs. It's for all kinds of sites.
Did you know: Lots of users fail to make  proper use of static landing pages?
Did you know: Most traditional static website owners steer clear of WordPress because they think their content can be organized only in reverse chronological order.
Wp Starter Guide – WordPress Tutorial
The WP Starter Guide is the perfect starter guide for anyone new to WordPress. Create your content in an organized, easy and logical way. Making it easier for your visitors to navigate through.
If WordPress makes you nervous or if it seems intimidating this ultimate guide will make learning a breeze!
What Does The Guide Include?
– 125 pages (PDF) of up-to-date information on how to use WordPress to create a website.
– Tips on SEO (search engine optimization), topic/keyword research, plugins, promotion, making money, layout, writing content security and customizing common elements of your blog.
An entire chapter dedicated to layout that will assist you in making your WordPress site easier to navigate.  Potentially improving your site's search engine optimization.
– Instructions for adding floating social media icons
– Learn how to add AdSense ads to your sidebar
-Get help using the WordPress Menu feature and create drop-down navigation menus quickly
– insider tips
– FREE lifetime upgrades! WordPress is constantly updated
Thanks for stopping by 3 Catt's Cove, where there's a little bit of everything for everybody. Feel free to sign up for our emails as we're always updating and adding new products and offers you don't see everywhere else. Be among the first to know, sign up today!